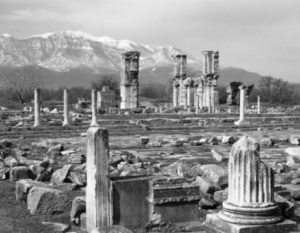 We grew up by the sun drenched and salt soaked rocks of the northern coast of Greece, in a city famous for its fresh fish, and its ancient winemaking history. Nearby, in the prehistoric settlement of Orthopetra (a.k.a. Dikili Tash), the oldest pressed grape skins suggest the oldest European winemaking activity, dated to 6,500 years ago. The area's dominant mount Pangeon, is famous for its gold mines (which funded most of Philip's and Alexander the Great's Macedonian military campaigns), as well as the birthplace of wine God, Dionysus.
---
Eklektikon was born in 2011, with passion for Greek wine and Greek pride, realizing that Greek wine and culture were not properly represented in the US. Our vision was the creation of a "bridge" between Greek tradition and the US market, in the form of imported handcrafted natural Greek wines.
---
Since then, we have been in a constant pursuit of partner winegrowers, who celebrate the distinctive autochthonous peculiarities of our place. These artisanal growers are scattered around the country, stitching together a holistic experience of traditional Greece. They manually farm their own grapes, using organic and biodynamic practices. Each grower's focus is on grape varieties indigenous to their region, which have adapted to their "birthplaces" for thousands of years, having developed the ability to purely express their surroundings. Vinification is of minimal intervention and small batch (micro-vinifications), using old and time-tested methods of local tradition.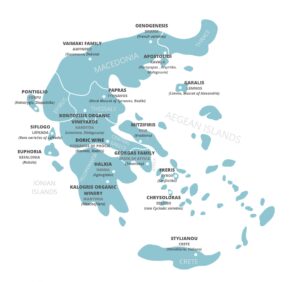 ---
Through time, Eklektikon evolved into much more than just an importer, but rather an incubator for artisanal farmers around the country. We regularly meet and exchange ideas, taste everyone's wine, and try to elevate every member in the Eklektikon team to their full potential. Through our work, we support small agricultural families, and promote the country's rich biodiversity and uber-old winemaking traditions.
---
The wines that comprise Eklektikon's portfolio, are natural for a reason, and in certain ways. They are wholesome and nutritious, being free of any harmful additives and chemicals, and made from organic or biodynamic grapes (almost always certified so). They authentically express the history and tradition of the micro-region they come from. They promote biodiversity, coming from various corners around the country, and made from an abundance of indigenous varieties instead of just a few so called "nobble" varieties. Finally, their purchase supports small agricultural families, the economic foundation of Greece, instead of big conglomerates with non-transparent interests.
---
The wines that we get excited about stand out as rather raw and unpretentious. They are alive and unexpected, usually with crunchy textures and distinctive personalities. They are unique expressions of the unique places they come from.
---
Today, Eklektikon's portfolio of 20 growers represents more than 10% of the 300+ recorded indigenous Greek grapes, the largest selection of orange Greek wines in the world, and, in general, the most diverse portfolio of Greek wines that has ever existed.
---
Last but not least, of equal importance is our commitment to working with genuinely kind and ethical human beings, who are concerned for others, the environment, and the footprint they leave behind.